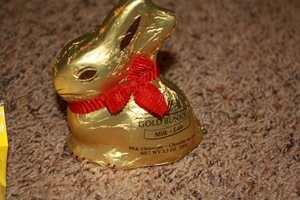 My girls are so excited for Easter and can't wait to find what the Easter Bunny has left them. One thing both my girls really love is chocolate. In fact Leah's favorite candy is anything chocolate. So I decided this year to put a bunny in each girls basket and some yummy chocolate eggs.
Now I am a bit of a chocolate snob, I love the gourmet chocolates. So I couldn't wait to try the Lindt GOLD BUNNY! I thought it was gourmet tasting with a great price! I love chocolate too and can't wait for the girls to try there bunnies out. I love that the Lindt GOLD BUNNY comes in Milk Chocolate, Dark Chocolate (my personal favorite) and White Chocolate and different sizes too.
Lindt Chocolate also has some other great Easter Basket fillers like the Chocolate eggs!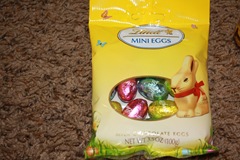 "Lindt's iconic Lindt GOLD BUNNY is a great addition to any Easter basket or celebration, and the product even gives back, raising funds and awareness for Autism Speaks through a 10 cent donation for each bunny sold in 2013, up to $100,000.LINDT GOLD BUNNY offers one of the widest collections of chocolate Easter bunnies, with bunnies ranging from mini 10 g bunnies to life size 1 kg bunnies available in milk, dark and white chocolate – the perfect size and taste for every palate.
Starting March 11, Lindt will also be hosting a Pin 2 Win Lindt GOLD BUNNY Challenge, asking Pinterest users to create boards focused on Easter traditions, such as egg hunts and basket building, featuring at least one pin with Lindt GOLD BUNNY. Once 1,000 or more Pinterest users have participated in the challenge, which runs through March 27, Lindt will donate an additional $10,000 to Autism Speaks. All participants will be eligible to win one of ten gift baskets with the essentials for creating a memorable Easter – $100 of Lindt Easter products."
Please visit www.lindtusa.com to find out what other products they offer and where to purchase!
Lindt GOLD BUNNY gets Bragging Rights!