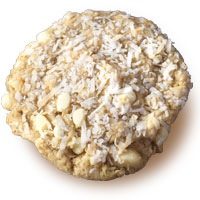 Who doesn't love yummy cookies? I know I do and so does my family! I couldn't wait to try the cookies from Over the top Gourmet cookies in South Jordan, Utah. I was able to go and visit with my daughter and try out some of their yummy gourmet cookies.
There were lots of yummy flavors to choose from like Smores, Butterfinger,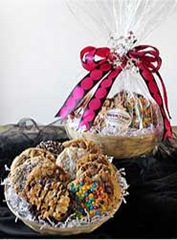 Peanut Butter Cup, M&M Madness and more! I also really loved the look of the cute store. There were a lot of different items to choose from not just cookies. I loved the fun lollipops, and father's day gifts they had on display. What father wouldn't love some yummy cookies?? My husband and daughter both LOVED the cookies! My husband's favorite was the Milky Way and my daughter loved the Sugar Cookie complete with frosting a cute ladybug.
"In Rachel's own words: "Plain old cookies are boring. They don't convey any love or affection, and isn't that the whole point of baking things for others?"
Starting with fresh ingredients, Rachel loads her cookies with the finest chocolates, toffee, and nuts. But then Rachel's problem becomes evident: she makes the cookies huge so that they can hold more chunks of candy bars, toasted marshmallows, coconut or icing. Truly indulgent.
Her passion led Rachel to start Over The Top Gourmet Cookies in 2003.
Specializing in outrageously tasteful gift baskets perfect for friends, customers, family, special occasions, or just to say "I love you", Over The Top Gourmet Cookies provides gifts that are truly distinctive and memorable.
So take advantage of Rachel's lack of judgment. Give the gift that's always remarkable: Over The Top Cookies!" (Over The Top Website)
This is such a cute little bakery in South Jordan Utah that sells some super tasty treats!
I love that you can buy these tasty cookies right in the store located at
1665 W. Towne Center Drive, Suite B3
South Jordan, UT
or you can buy them online at www.overthetopcookies.com and right now you can get a Free Cutie (smaller version of the cookie) if you visit the store! Just mention that The Bragging Mommy sent you!
Over the Top Gourmet Cookies gets Bragging Rights!