"In 1988, young sisters Katie and Kristi befriend an invisible entity who resides in their home."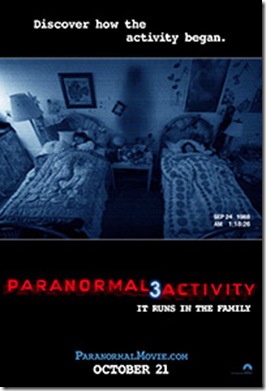 I enjoyed the first two movies in this series, so I was excited to see Paranormal Activity 3.  I enjoyed this one a lot.  It had a creepy factor just like the others. A ton of suspense and a few really good scares.  It is a great movie to go see right now since it is Halloween season. 
A few things disappointed me. The first being that a few of the trailers they are playing on TV show parts that aren't even in the movie.  That disappointed me, especially when I saw the trailers afterwards and thought "I wish that would have been in it".  I also felt like the story line was choppy and they didn't make much sense of things.  It was very vague and didn't explain much of anything and I felt like it was barely tied to the first and second movies.
But that aside it was scary and I enjoyed every minute of the creepy scary factor this movie brought.  If you like to be scared then this is the movie for you!
Paranormal Activity 3 Opens in Theaters Today October 21.
Paranormal Activity 3 is Rated R. For additional info visit the Paranormal 3 Official Site.