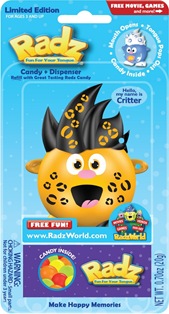 With Easter coming up I was trying to find fun, creative, different things to put in the girls baskets this year. Easter is always fun but sometimes you end up with a half bag of jelly beans that no one wants to eat or a ton of plastic eggs that you try and save for the next year.
Radz Candy Dispensers are the perfect item to put into the Easter baskets this year! Not only are they cute little guys that you can collect BUT you can fill them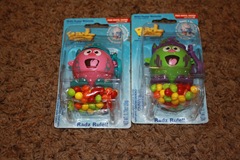 with candy too! It's a win win for my girls!
I love that there are tons of
different Radz to choose from and each pack has a special code that kids can use to log into RadzWorld.com and unlock special apps, games, videos and more! There are also Candy refills and Mystery Glasses that can be traded among each Radz!
"At Radz, we're all about making candy that's not only delicious, but fun too! That's why each character in our line of over 250 collectable toy candy dispensers comes with its own package of tasty Radz candy and access to Radz World, our online entertainment portal where fans can watch videos, play games, and submit fan art.

Radz's specially-formulated candy comes in four yummy flavors: Orange Burst, Apple Smash, Strawberry Splash, and Radzberry Crush.
The Series One line of dispensers includes five fun characters: Antic, Bubbs, Twig, Scorch, and Max. How do the dispensers work? To get candy, slide the hat back and the tongue pops out. To refill, twist to remove the hat. Hats are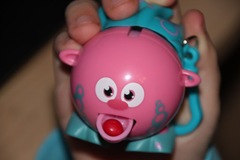 interchangeable for tons of mix n' match fun! Dispensers come in both regular and Bytz (small) sizes"
We chose Bubbs and boy is she cute! I know Leah will love clipping her onto her backpack!
You can Buy or find a retailer near you at http://radzworld.com/shop!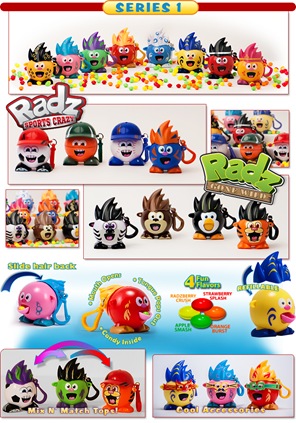 Radz Candy + Dispenser gets Bragging Rights!