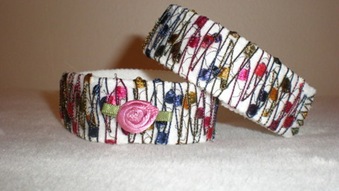 When I was pregnant with my daughter I was NEVER sick and I mean NEVER. Once in awhile I would get nauseous and have food aversions but I never threw up and didn't have morning sickness. But with this pregnancy I have been so sick! I have morning sickness– and by the way I think that was made up by a man because it should be called ALL DAY sickness and not just morning. So I have tried everything to make it go away or at least subside. I tried Saltines, Ginger Ale, Ginger Snaps, Ginger Candy, Soup, Toast with nothing on it, Popsicles, you name it I probably have tried it.
So when I came across the Rogue Swan Anti Nausea Wristbands, I thought Heck I will try anything! What I first noticed about these bracelets was how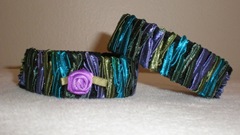 cute they were! I love that they come in a lot of different colors and designs, so they can be worn with every outfit.
I decided to try them out right away and for me they really worked! Who knows if it is a mind over matter thing, but I don't care, they worked and that's all that matters.
I really love that these wristbands were designed by a Rebecca Swan, a  single Mom of 2 boys and she designed them while being pregnant with morning sickness!
"When I became pregnant for the second time I was very ill. A combination of morning sickness and dizziness took over my life. I tried everything so I could continue my daily routine but nothing worked. At my wits end I decided to try acupressure wristbands which according to medical studies had a high effectiveness rate with no side effects. Honestly I am amazed how well this product worked for me… relieving all of my symptoms immediately.
I had thought of creating my own product since 2003 and I had utilized acupressure techniques on horses for years. I found it interesting that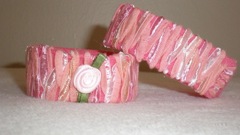 acupressure relieved many different symptoms of nausea, pain relief, heartburn, and anxiety. After many trials and errors I have finally designed something functional yet stylish. Rogue Bracelets are for people who suffer any type of nausea from motion sickness to treatment related nausea or those who deal with everyday heartburn and stomachaches. Throw away those offensive wristbands…. Jewelry with a Cause is functionality with flair." (Rogue Swan Creations website)
This is such a great idea, I have a lot of friends who go through morning sickness and would love this! I also really like that these can help with any kinds of nausea, motion sickness, heartburn and more.
Things that are Bragworthy:
Helps with Morning Sickness, Nausea, Motion Sickness and more

Comes in a lot of cute styles

Be Stylish and Comfortable at the same time

No Side Effects

Each set comes with 2 bracelets and very affordable

Comes with exact directions on how to wear these cute bracelets
These cute Rogue Swan Anti Nausea Wristbands can be purchased at www.antinauseawristbands.com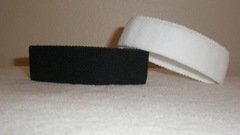 Rogue Swan Creations Anti Nausea Wristbands gets Bragging Rights!
One Lucky winner will get a set of Anti Nausea Wristbands.
How to enter: Leave comments below with your qualifying entries. Leave a Separate comment for each entry telling us which you qualify for.
MANDATORY 1st entry– Please visit Rogue Swan Creations and let us know which wristband is your favorite.
 10 entries– Purchase a set of Wristbands from Rogue Swan Creations.
3 entries– Follow Rogue Swan Creations on Twitter
3 entries– Follow Morning Sickness Fix via Google Friend Connect.
 3 entries– Sign up for Morning Sickness Fix via RSS Feed.
2 entries– Grab The Bragging Mommy button and put it on your blog. Leave a link.
1 entry for each– Follow The Bragging Mommy via Google Friend Connect, Facebook, Twitter, subscribe to emails, subscribe in reader.
2 entries– Blog about this giveaway. Leave a link.
1 entry per day– Follow on Twitter & Tweet this giveaway using & @braggingmommy and @beccaswan69.
GIVEAWAY IS NOW CLOSED
You can enter this giveaway until April 29 @10:00 am MST. The winner will then be chosen at random, verified and contacted via email. The winner will have 48 hours to email us back and claim the prize, if prize is not claimed within 48 hours a new winner will be chosen. By entering this giveaway you agree to The Bragging Mommy Full Disclosure. You must be over the age of 18 and live in the Contiguous US to enter.
*This is a sponsored post, I received product to facilitate my review.