JINKIES!
GET SET FOR A MONSTROUS ADVENTUREWHEN WARNER HOME VIDEORELEASES THE ALL NEW ORIGINAL ANIMATED MOVIE
SCOOBY-DOO! LEGEND OF THE PHANTOSAUR
SEPTEMBER 6, 2011
"Family Favorite Franchise Scooby-Doo! is Back With a Brand-New Film  BURBANK, CA(August 1, 2011) – What's creepier than a dinosaur? A ghostly dinosaur! Just ask Scooby-Doo and his pals after they encounter a Phantosaur, one of the creepiest creatures ever, in Scooby-Doo! Legend of the Phantosaur, the all-new, must-have, original movie from Warner Home Video (WHV). Viewers will want to join in the high-jinks and fun with the lovable Great Dane and the Scooby-Doo gang as they investigate a strange haunting that's plaguing a group of paleontologists searching for ancient fossils.  Scooby-Doo! Legend of the Phantosaur will be available in stores September 6, 2011 and will retail for $19.98 SRP and Blu-ray™ Combo for $24.98 SRP.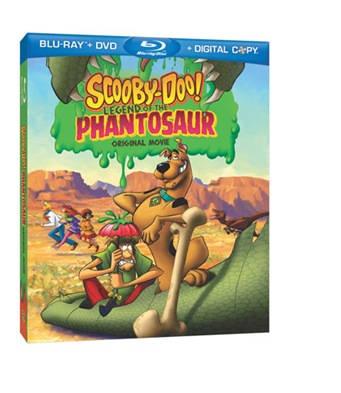 What begins as a relaxing spa getaway for Scooby-Doo, Shaggy, Fred, Velma and Daphne, somehow takes a very strange turn when the gang uncovers a frightening Phantosaur, a ghostly dinosaur that's come to life to protect hidden treasures buried in secret desert caves. The Phantosaur appears to be on a mission to keep a group of paleontologists from digging for fossils. The gang sets out to investigate the prehistoric haunting and in the process, uncover all sorts of colorful suspects including a free-wheeling motorcycle gang, greedy corporate investors and over-zealous scientists. Will it be prehistoric panic or will our teenage sleuths put all the pieces together and solve this strange mystery?
"Scooby-Doo! Legend of the Phantosaur offers a perfect blend of mystery and fun designed to entertain both kids and adults," said Mary Ellen Thomas, WHV Executive Marketing Director of Family & Animation Franchise. She added, "Our goal is to create an engaging series of animated films featuring Scooby-Doo and the gang. This is one of the best-loved cartoons in pop culture history and we know that fans eagerly await each new installment. It's important for us to us to keep Scooby-Doo's legacy alive by continuing to bring consumers exciting new films such as this."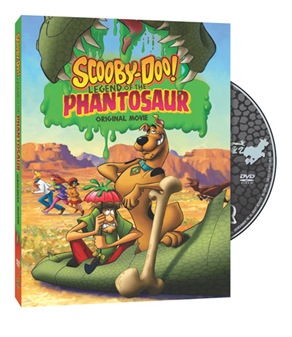 Special Features:
Searching for Phantosaurs – Join Nick Palatas ("Shaggy" from Scooby-Doo!: The Mystery Begins and Scooby-Doo!: Curse of the Lake Monster) as he searches for clues about the mysterious lives of dinosaurs at the Los Angeles County Natural History Museum. Nick meets with the museum's experts to get the real story on the amazing dinosaurs they have on display. Beware, there may be a Phantosaur lurking about! Nick will need to keep his wits about him on this museum adventure!
Scooby-Doo!, the hit franchise follows the adventures of Daphne, Fred, Shaggy, Velma and Scooby-Doo as they travel in their van "The Mystery Machine" and solve cases typically involving ghosts, monsters or other supernatural forces. High-jinks always ensue, with their investigations resulting in entertaining chase scenes mixed with catchy musical numbers and comedic antics. The original television program went on to become one of the most successful animated television programs in history and spawned several spin-off series, specials, consumer products and live action films."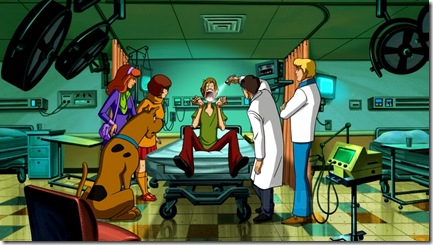 My boys really enjoy Scooby Doo and watch it on a regular basis.  They were super excited to get this new Scooby Doo! Legend of the Phantosaur on Blu-ray and DVD Combo Pack.  It is a big hit with both boys and I highly recommend it for Scooby Doo Fans!
It is available online and in stores now!
Scooby Doo! Legend of the Phantosaur gets Bragging Rights!