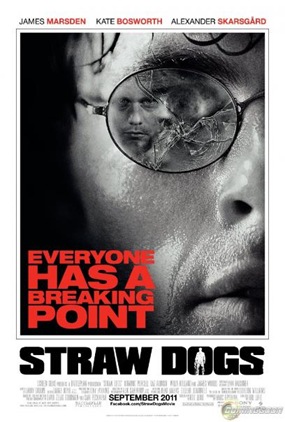 "L.A. screenwriter David Sumner relocates with his wife to her hometown in the deep South. There, while tensions build between them, a brewing conflict with locals becomes a threat to them both."
My husband and I enjoy scary thriller movies.  We didn't quite know what to expect with Straw Dogs since the only trailer we had seen was a short teaser.  We both enjoyed the film and especially enjoyed the outcome of the film.   We enjoyed watching the characters evolve, especially the character David. There is a lot of violence (very strong) and a rape scene.  It also has quite a bit of strong language.  So be advised of that before viewing.  The rape scene was really hard to watch and in my opinion way to long.  I found myself actually physically shaking during this movie it scared me so much.  I haven't ever had that happen before in a movie.  It was really intense.  If you like thriller movies then you will enjoy Straw Dogs.  It is actually a re-make of the 1971 film, I haven't seen the original so I have nothing to compare it to as of yet, but I will be renting it to compare.
Straw Dogs is Rated R for for strong brutal violence including a sexual attack, menace, some sexual content, and pervasive language.
In short this is not a movie for the kids (no way!) but a good movie for moms and dads who enjoy thrillers and need a night out.
For more info on this film visit: www.strawdogsmovie.com
Straw Dogs Opens in Theaters Today (September 16)
I attended an advanced screening of Straw Dogs for this review.