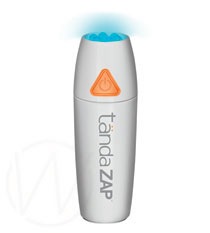 "The new tända ZAP™ advanced acne clearing device is clinically proven to clear individual acne blemishes fast*. Guaranteed. It's designed to fit not only your pocket but your lifestyle too, clearing or fading acne within 24 hours. That means no matter where you are, or when it is, a little acne's not going to come between you and your life. If you feel a pimple coming on, just zap it and stay social.
Powerful blue light destroys acne-causing bacteria, sonic vibration and gentle warming help open pores so bacteria have no where to hide. No pain. No irritation. No dryness. And best of all no pimple."-Tanda
Big Date tomorrow?  Important Business Meeting? Family Pictures?  And a zip just popped up right in the middle of your face.  Do you cancel?  Thanks to Tanda Zap you won't have to.  Tanda Zap is an Acne Light Treatment that is "Clinically Proven to Clear or Fade Acne Blemishes within 24 hours"-Tanda
Before                                              After
I was excited to try out the Tanda Zap from Tanda Skincare.  I still get blemishes and I wanted to try something new to get rid of them quickly.  Once my Tanda Zap arrived I read the very simple instructions and started zapping the few blemishes I had.  You can use it up to 3 times daily.  So that is what I did.  You simply place it on your blemish then press the button.  Then 3 things happen:
Light – 414nm blue LED light kills the acne-causing bacteria
Heat – A warming effect opens up pores so that the light can reach more bacteria
Sonic Vibration – Increases microcirculation to help reduce swelling, inflammation and redness
It last for 2 minutes.  I noticed my blemishes were getting better the more I used it.  One thing to note is that it has a 1,000 treatment limit.  Once you hit 1,000 uses it will stop working and you will have to get a new one.  So depending on how often you have to use it the shorter amount of time it will
last.
I really love how it is nice and small.  Great for traveling as it can easily fit in my makeup bag.
"Tända ZAP CLEARS INDIVIDUAL ACNE BLEMISHES FAST"
Things that are Brag Worthy (from the Tanda Site):
Eliminates acne bacteria
Helps prevent future breakouts
For all skin types & tones
Starts clearing blemishes immediately
Powerful blue light destroys acne-causing bacteria.
Gentle vibration and warming help open pores so bacteria have no where  to hide.
No dryness. No irritation. No pimple.
Money back guarantee.
You can purchase the Tanda Zap online and never have to worry about embarrassing blemishes again!
Tanda Zap gets Bragging Rights!