Purchasing shoes for children can be a tricky task. Given their rapid growth, their shoes and clothing only fit for a brief time before they need to be replaced. As a result, you don't want to spend a lot of money on items that will only be worn for a short period of time, such as clothing. Not only that, but children can be extremely particular about the way their shoes fit and appear as well. Get them some slide sandals, which are a great answer for these and other concerns, amongst other things.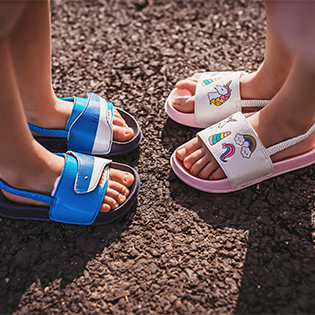 The following are the most popular reasons why parents enjoy purchasing slides for their children:
Price: Because they are so inexpensively priced, slides are an excellent choice for footwear. Because children grow at such a rapid rate, you don't want to have to pay an arm and a leg every time they need to go up a shoe size. Slides are always a reasonably priced shoe, but they become even more so when it comes to children's footwear. They can occasionally be purchased for as little as $15, depending on the brand and material. In addition, having more than one child and needing to purchase more than one pair of shoes is a significant benefit.
Sizes: When it comes to sizes, because children outgrow their shoes so quickly, having open-toed shoes or shoes without a back can help your children keep their shoes for a little longer. The toes will not be squashed when trying to fit inside the shoe if you get slides and the child's feet expand slightly after purchasing them. Instead, they'll have a little more breathing room, which will give you more time to find and purchase new shoes for them.
However, exercise caution in this situation. Always verify your child's height and weight before allowing them to go on slides that are too small for them for an extended period of time. This can lead to developmental issues, so make sure to check the child's shoe size on a regular basis and purchase new shoes as needed.
Durability: Because children are active and prefer to spend a lot of time playing outside, they require shoes that can keep up with them. Slides are the perfect shoe for kids in this situation. Slides are a terrific addition to any outdoor space because they are weather-resistant, comfy, and long-lasting. Because many slides are soft and pliable, the one thing that could happen is that the shoe could be penetrated by something. This is something to be aware of.
Style Options: Purchasing shoes for children can be a challenging task, especially if the children are choosy about what they wear. There are some types that choose to only wear certain colors, while others prefer to wear patterns or have cartoon images printed on their blue slides. Slides are excellent for this purpose once again because there are so many options to pick from. Whether you prefer red slides or slides with a pattern, you will undoubtedly be able to find whatever makes you happy.
Materials: Slides are available in a variety of materials, including cork, rubber, plastic, and leather, in addition to their design. However, while rubber offers the widest variety of possibilities, to discover the best fit for your child, have them try on a few different pairs to determine which material is the most comfortable for them.
Really slides are a fantastic shoe for anyone, but they are especially beneficial for children. They are suitable for usage in the house, as well as for outdoor play, learning, pool parties, and beach walks. Regardless of the material or brand you choose, your child will adore his or her brand new slides!