Drivers, start your engines!
"We have some tiny Mario R/C toys. They're adorable and zippy and tiny, but we know that some of you like to live large. Why have a palm-sized R/C car when you can get one big enough for a Chihuahua to pilot? (Sadly, Mario is firmly planted in the driver's seat or we would be showing you video of Luna the office Chihuahua zipping around the office.)
Available in either Mario or Yoshi, you can maneuver the cars around the office, weaving around desks and between cubicles. Both styles come in individual channels so you can have your very own Battle Mode right in the discomfort of your own workplace. These fully assembled R/C karts are huuuuuge and have the authentic details that Mario Kart fans expect. The full function controls include directional steering in forward and reverse. Don't forget to eat some bananas so you can recreate a real Mario Kart experience!"-ThinkGeek.com
I've done it.  I have found the perfect gift for my boys!  The Super Deluxe Mario R/C Cars from Think Geek.  This is not your boring everyday r/c car.  No, not at all.  This is so big!  When the box arrived I didn't realize what it was because I wasn't expecting it to be so big.  In there description they say a Chihuahua could ride on it (if Yoshi wasn't there) and they aren't exaggerating! It is a great sized R/C Car. The boys were squealing with excitement at the site of it in the box.  They loved how big it is and couldn't wait to try it out.
It comes with either Mario or Yoshi (your choice) and we chose Yoshi.  I love that it is all assembled and it has a re-chargeable battery.  The coloring is so bright and fun.  The kids found it really easy to control.
My boys love playing Mario Kart on the Wii and they had a blast driving around Yoshi.  My next item of business is to get them a Mario so they will be able to race each other.  It's great because they are made to not interfere signals when used at the same time.
If you are looking for the perfect gift that will wow your kids this is it.  It has that wow factor and is a blast for the kids (and the adults).  Birthdays, Christmas, just because…they will love it!
See them in action!
Things that are Brag Worthy:
Ready to race: Fully assembled R/C kart is ready for fast karting action!
Genuine styling with authentic details from the Mario Kart games
Full function controls including directional steering in forward and reverse
Multi-player racing – Mario and Yoshi operate on different radio frequencies so they can race each other with no interference (sold separately).
Not for children under 3.  Recommended ages: 8+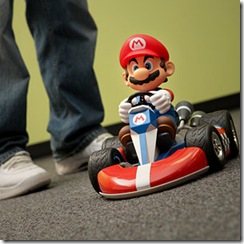 You can purchase the Yoshi and Mario Super Deluxe R/C Car as well as other super cool stuff by visiting www.ThinkGeek.com!

Mario and Yoshi R/C Cars from Think Geek get Bragging Rights!