With my husband in dental school, I was lucky enough to get braces for FREE! One of the worst parts about having them was getting food stuck in the wires, & having to spend so much time trying to keep my teeth clean. The first time I flossed with my braces on, I'm pretty sure it took me about 20 minutes!! My flossing time got quicker, but it was still a big job. That is why I was so happy to receive the Professional Oral Irrigator from ToiletTree Products!! I have a fog free mirror from ToiletTree Products and am still happy with it, so I knew the Oral Irrigator would be great as well!
"Finally there is a solution to clean where your floss can't! Professional Oral Irrigator by ToiletTree Products is able to give you the most effective cleaning in the comfort of your own home.  This product is ideal for those who don't like to floss, as well as for anyone who has braces, implants, crowns, bridges or periodontal pockets. The ergonomically designed handle and 360° rotated nozzle, let you easy to control water flow to reach all areas of the mouth. The oral irrigator gently but effectively massages and stimulates gums to improve circulation and keep your gums strong and healthy."
This Professional Oral Irrigator is so much easier than flossing my teeth! I loved using it right after eating. Not only did it clean my teeth, but it got all the food particles (I know….super gross) out of the wires of my braces quicker than I could've done it any other way. The stream of water was strong enough to be effective, but it didn't hurt my gums at all. The Oral Irrigator has 3 different modes including a soft mode, so if you have sensitive gums, it is perfect for you. It also came with two heads that can be switched out so that more than one person can use it. !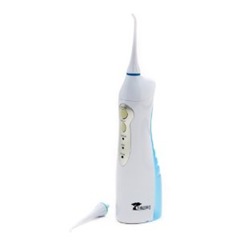 I got my braces off last Tuesday (YAY), but I definitely plan on using the Oral Irrigator to keep my teeth clean. It's easy & it's effective….why wouldn't I use it
. Plus, it's a lot more fun than flossing every night (although I still floss every few days).
 Things that are BRAG WORTHY:
Delivers a water pressure of 40 to 80 PSI with 1700 pulses per minute.
Removes bacteria deep between teeth and below the gum line.
Massages and stimulates gums.
High volume tank capacity.
Use with water, mouthwash or anti-bacterial rinses.
Cordless
Waterproof
ToiletTree Products Professional Oral Irrigator gets BRAGGING RIGHTS!
Learn more about ToiletTree's Oral Irrigator today. And while you are there, look at their fogless shower mirror too!
ToiletTree Products is generously giving away a Professional Oral Irrigator to one lucky reader!
How to enter: Leave comments below with your qualifying entries. Leave a Separate comment for each entry telling us which you qualify for.
MANDATORY 1st entry– Visit ToiletTree Products and tell us something you learned on their website.
1st Mandatory Entry must be completed before you can qualify for additional entries. All extra entries who don't do the mandatory entry will be deleted
3 entries– Like ToiletTree Products on Facebook.
2 entries-Follow ToiletTree Products on Twitter.
2 entries– Grab The Bragging Mommy button and put it on your blog. Leave a link.
1 entry for each– Follow The Bragging Mommy via Google Friend Connect, Facebook, Twitter, subscribe to emails, subscribe in reader.
10 entries– Blog about this giveaway linking to this post. Leave a link.
1 entry per day– Tweet this giveaway including a link to this post, & @braggingmommy and @ToiletTreeProd in your tweet.
GIVEAWAY IS NOW CLOSED
You can enter this giveaway until September 8th @10:00 am MST. The winner will then be chosen at random, verified and contacted via email. The winner will have 48 hours to email us back and claim the prize, if prize is not claimed within 48 hours a new winner will be chosen. By entering this giveaway you agree to The Bragging Mommy Full Disclosure. You must be over the age of 18 and live in the Contiguous US to enter.