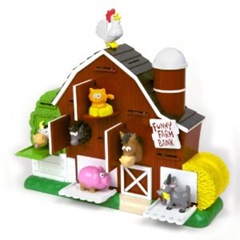 What kid doesn't love farm noises or pretending to be like an animal? Leah absolutely loved this piggy bank in the form of a farm. This cute bank not only teaches how to count and save money but it also has fun games and kids can learn saving is fun!
Leah loved putting a coin in the slot and seeing the animal pop out and Meow, oink, Neigh, Moo etc. She loves playing with this fun new bank. It's a great way to teach kids to save money for a rainy day and to have fun while doing it. This  kids bank is also the perfect way to get kids to do their chores or pick up toys, or in our case to go pee pee in the potty! Every time Leah does one of these things, we give her a shiny new coin to put into one of the slots and she starts giggling to see each animal.
The Zillionz Toys Funny Farm bank features:
7 coin-activated farm animals

Farm animal sounds

Find-the-animal game mode

Plus a hilarious funny farm song

Easy accessed coin vault
"And on that farm there were… funny farm animals! "Farming" – and learning about money – have never never been so much fun, thanks to the animated Funny Farm Bank. Now kids can learn all about saving money while interacting with hilarious farm animals. Just put a coin into any of the six slots on the front of the bank and watch as the door springs open to reveal an animal. Listen as the cow moos, the duck quacks and the pig oinks! Place a coin in the silo and you'll hear the "Funny Farm Song," where all the animals make noise together. The fun doesn't stop there. Switch to game mode and play 'find-the-animal.' Just listen for the animal noises and try to put a coin in the correct slot to feed the animal each noise corresponds to."
This cute Farm and other items can be purchased at www.zillionztoys.com or www.amazon.com
Zillionz Toys Funny Farm gets Bragging Rights!
* I received a Zillionz Toy Funny Farm for this review.